Picture : Rivaldo received the IFFHS Trophy with Louis Van Gaal his coach in Barcelona.
IFFHS – THE WORLD'S BEST TOP GOAL SCORER 2000 : RIVALDO (BRAZIL/FC BARCELONA)
PRESENTATION
Rivaldo Vitor Borba Ferreira, born 19 April 1972 in Recife (Brazil), known as RIVALDO, is one of the greatest Legend Players in Brazil and the current President of Mogi Mirim Esporte Club,one of his clubs as player.
Rivaldo began his youth career in Paulistano in 1989 before signing his first contract as Professional in Santa Cruz (1991). His debut was difficult, Mogi Mirim and Corinthians didn't really trust him, but as he went to Palmeiras in 1994, Rivaldo began really to show his talent. 14 goals in 30 matches , a Brazilian Serie A title 1994 and 2 Campeonato Paulista (1994, 1996) brought him to a trip to Spain and Deportivo La Coruna. In one season, 1996/97, he scored there 21 goals in 41 matches, showing his class as wide midfielder and convincing the great FC Barcelona to sign him.From 1997 to 2002, he spent five years in Barcelona where he won the 1998 and 1999 Spanish La Liga Championship , the 1998 Copa del Rey and the UEFA Supercup 1997. He scored 86 goals in 157 matches with Barcelona in the Liga and 130 goals in total in the five years with the FCB. He won so the BALLON D'OR 1999, the FIFA World Player of the Year 1999 Award, the UEFA Champions League Top Goal Scorer 1999 and the IFFHS The World's Best Top Goal Scorer Award 2000.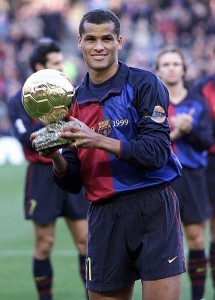 In 2002, he went to Italy and Milan AC, where Rivaldo won in two years the UEFA Champions League 2002/03, the Coppa Italia 2002/03 and the UEFA Super Cup 2003. He played only 22 matches in Serie A with 5 goals, so his way brought him to Greece and Olympiakos. In 3 seasons, he scored 36 goals in 70 matches, won the Greek Super League 2005, 2006 and 2007, and the Greek Cup 2005 and 2006 ! He moved then to rival AEK Athens (12 goals in 35 matches in 2007/08) before trying a new adventure in Uzbekistan. With Bunyodkor, he scored 33 goals in 53 matches and won 3 Uzbek Leagues 2008, 2009 and 2010 ,also 2 Uzbekistani Cups 2008 and 2010.
In 2010, he returned to his country Brazil and Sao Paulo, moved to Kaburscop, Sao Caetano and finally to Mogi Mirim in 2014/2015, where he announced his retirement from professional football and is the current President of the club.
From 1993 to 2003, Rivaldo played 74 matches with the National Team of Brazil and scored 35 goals. He helped Brazil to reach the FIFA World Cup Final 1998 in France, where he was runner-up and was one of the greatest players of Brazil with Ronaldo and Ronaldinho to win the FIFA World Cup 2002 in South Korea and Japan. He won also the Copa America 1999 and was crowned Player of the tournament and best Goal Scorer. He was also named in the FIFA World Cup All-Star Team 1998 and 2002, winning also the Confederations Cup 1997 and the Bronze Medal at the Olympic Games 1996 with Brazil.
Rivaldo was one of the most creative players of his generation and really one of the World's Best Playmakers ever, scoring and creating goals !
(Visited 37 times, 1 visits today)
1