Ruud Gullit (third place) and Marco Van Basten (winner) received the IFFHS Trophies for The World's Best Footballer 1988 from Paul Breitner, a German Legend Player in Milan.
In 1988, IFFHS decided to create an official poll for the WORLD'S BEST FOOTBALLER each year, taking as a base the top footballer voted on each continent (Europe, Africa, South America, CONCACAF) some weeks previously.To that end, it was necessary to institute a vote for the best footballer in Asia and Oceania, which do not exist at that time.IFFHS did it for Asia and Oceania. Then the top placed players from the continents became candidates for the World poll, the IFFHS organised that and held the first of these polls towards the end of 1988 with partners and sponsors.
THE WORLD'S BEST FOOTBALLER 1988 (by IFFHS)
1 – Marco VAN BASTEN (Netherlands/Milan AC) 101 points
2 – Diego Armando MARADONA (Argentina/SSC Napoli) 92 points
3 – Ruud GULLIT (Netherlands/Milan AC) 71 points
THE WORLD'S BEST GOALKEEPER 1988 (by IFFHS)
1 – Rinat DASAEV (Soviet Union/Spartak Moscow) 119 points
2 – Hans VAN BREUKELEN (Netherlands/PSV Eindhoven) 97 points
3 – Walter ZENGA (Italy/Inter Milan) 31 points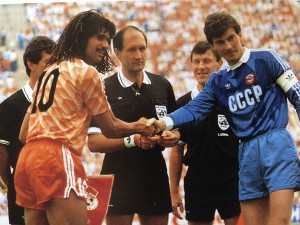 Rinat Dasaev (right) , the goalkeeper and captain of Russia, best World Goalkeeper 1988. Michel Vautrot (center) the World's Best Referee 1988 and Ruud Gullit (left) the third World Footballer 1988.
THE WORLD'S BEST REFEREE 1988 (by IFFHS)
1 – Michel VAUTROT (France) 92 points
2 – Luigi AGNOLIN (Italy) 41 points
3 – Alexis PONNET (Belgium) 35 points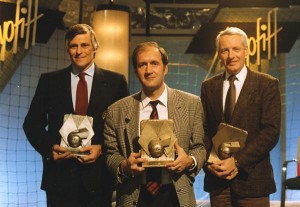 Luis Agnolin (left), Michel Vautrot (center), Alexis Ponnet (right) : the Referee's World Top 3 1988 with their Awards
(Visited 145 times, 1 visits today)
1