FOURTH AWARD FOR BIBIANA STEINHAUS !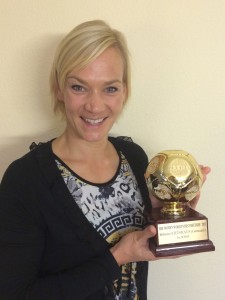 90 experts and journalists from all continents crowned Bibiana Steinhaus for the fourth time after 2013, 2014 and 2017 to The World's Best Woman Referee 2018 in the Annual IFFHS Awards.
The German referee stepped in a new area in may 2017 when she became the first woman to referee matches in one of the top five leagues of the World. Bibiana Steinhaus ,who began her career in 2005, leaded matches in all greatest woman world competitions and since one year in the men Bundesliga with big success.
Jana Adamkova from Czech Republic took a brilliant second place thanks to her performances in UEFA Champions League particularly the final between Olympique Lyonnais and VFL Wolfsburg. French Stephanie Frappart took again like last year place 3 before Esther Stäubli , the swiss regularity (always in the top 5 since 2012).
IFFHS Awards winners 2015 Kateryna Monzul and 2016 Katalin Kulcsar took again place in the Top 7.
RANKING IFFHS : THE WORLD'S BEST WOMAN REFEREE 2018
| | | | |
| --- | --- | --- | --- |
| Ranking | Name | Country | Points |
| | | | |
| 1 | Bibiana STEINHAUS | Germany | 138 |
| 2 | Jana ADAMKOVA | Czech Republic | 100 |
| 3 | Stephanie FRAPPART | France | 67 |
| 4 | Esther STÄUBLI | Switzerland | 54 |
| 5 | Kateryna MONZUL | Ukraine | 35 |
| 6 | Carol Anne CHENARD | Canada | 31 |
| 7 | Kate JACEWICZ | Australia | 24 |
| | Katalin KULCSAR | Hungary | 24 |
| 9 | Edina Alves BATISTA | Brazil | 23 |
| 10 | Claudia UMPIERREZ | Uruguay | 19 |
| 11 | Qin LIANG | China | 8 |
| 12 | Lydia Tafesse ADEBE | Ethiopia | 6 |
| | Gladys LENGWE | Zambia | 6 |
| 14 | Ana Maria KEIGHLEY | New Zealand | 5 |
| | Rebecca WELCH | England | 5 |
| 16 | Melissa BORJAS | Honduras | 4 |
| | Hyang Ok RI | PR Korea | 4 |
| 18 | Pernilla LARSSON | Sweden | 3 |
| | Sian MASSEY-ELLIS | England | 3 |
| 20 | Amy FEARN | England | 1 |
| | Petra PAVLIKOVA | Slovakia | 1 |
| | Shona SHUKRULA | Netherlands | 1 |
(Visited 855 times, 1 visits today)
3