Alexis Ponnet, Romualdo Arpi Filho, Luigi Agnolin : the Top 3 of the World referees 1987 !
In 1987, the President of IFFHS, Dr Alfredo Pöge, has the idea of voting annually for the World's Best Goalkeeper and The World's Best Referee with each country having one vote. It was the first time in history that such Awards were given, with the help of partners and sponsors. It was the beginning of a great history.
THE WORLD'S BEST GOALKEEPER 1987 (by IFFHS)
1 – Jean Marie PFAFF (Belgium/FC Bayern München) 137 points
2 – Rinat DASAEV (Soviet Union/Spartak Moscow) 43 points
3 – Walter ZENGA (Italy/Inter Milan) 30 points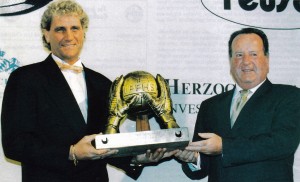 Jean Marie Pfaff with the first IFFHS Trophy !
THE WORLD'S BEST REFEREE 1987 (by IFFHS)
1 – Romualdo Arpi FILHO (Brazil) 74 points
2 – Alexis PONNET (Belgium) 56 points
3 – Luigi AGNOLIN (Italy) 51 points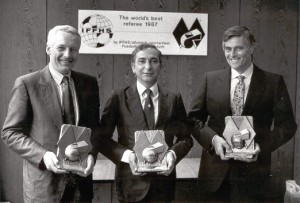 (Visited 86 times, 1 visits today)
0