Picture : Horacio Elizondo honoured in Salzburg Austria at the IFFHS Gala.
IFFHS AWARDS – THE WORLD'S BEST REFEREE 2006 : HORACIO ELIZONDO (ARGENTINA)
PRESENTATION
Horacio Marcelo Elizondo, born 4 November 1963 in Don Bosco, is a former Argentine international Referee, who has crowned his career in 2006 with the Final of the World Cup in Germany and the IFFHS Award of THE WORLD'S BEST REFEREE 2006 !
He began his referee career at 29 after finishing his studies and the AFA course. In 1992 he made his debut in the Argentine First Division at the match between Deportivo Espanyol and Belgrano de Cordoba. Two years later, he was already named international referee and directed his first international match on 9 October 1996 between Ecuador and Colombia for the World Cup 1998 qualifications.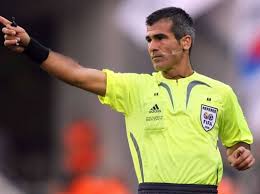 He participated as referee at several international competitions, the Copa America 1997 and 1999, the FIFA World Cup U17 in 1999 and 2005, the U20 World Youth Championships 2003 and 2005, the FIFA Club World Championship 2000, where he showed a red card to David Beckham at the match Manchester United – Necaxa. He also referred in the final matches of the Copa Libertadores 2002, 2005 and 2006.
Elizondo was more and more recognised in the Referee's World, taking place 5 in 2001 and 12 in 2005 in the IFFHS ranking of THE WORLD'S BEST REFEREE OF THE YEAR. 2006 was then his year. He whistled 6 Copa Libertadores matches, 9 FIFA World Cup qualification matches and 5 matches at the 2006 FIFA World Cup in Germany. He was appointed to represent Argentina and became the first referee in WORLD CUP History to referee both the opening game Germany – Costa Rica and the final game Italy – France ! He gave in that final the red card to Zinedine Zidane and contributed with his performance to the success of the World Cup. He was crowned by IFFHS as THE WORLD'S BEST REFEREE 2006.
In December the same year, he retired from football after the Argentine First Division match Boca Juniors – Lanus, having achieved all his goals in refereeing.