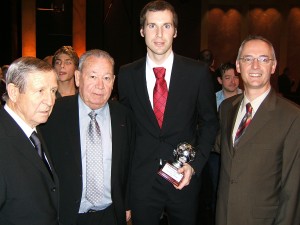 The World of Football has paid tribute to legendary footballer Raymond Kopa, who has died aged 85.
Kopa was regarded as one of the finest footballers of his generation and was a key player in the Real Madrid team that dominated Europe through the late 1950s, winning 3 European Champion Cups and also the Ballon d'Or in 1958 !
The attacking midfielder was also a star for the France national team and helped his country to third place in the World Cup 1958. He won also 4 national Champion titles with Stade de Reims in France.
In 1970, Kopa became the first footballer ever to be honoured with the Legion d'Honneur, the highest civil merit award by the French Government.
The son of Polish immigrants, Kopa was born Raymond Kopaszewski and played for Angers in second division before joining Stade de Reims, the best team in France in 1951. With Reims he won two national titles and finished as runner-up un the 1956 European Cup, losing against Real Madrid before moving there the next year.
Kopa with Ferenc Puskas and Alfredo Di Stefano became the best Top 3 in the World with Real Madrid and won the Ballon d'Or 1958. He played a key role in the greatest area in Real Madrid's history and won so two national titles and three European Champion Cups in 4 years !
He returned to Reims, won two other national titles before his retirement in 1967 and became a great Legend Player in the Football World.
For the National Team he made 45 appearances and 18 goals, the World Cup 1958 was the greatest moment in his national career with the third place and the title of the best Player of the World Cup before the young Pele.
He was present in the IFFHS Gala 2007 in Salzburg (Austria) with his great friend Just Fontaine (the best goal getter in World Cup with 13 goals in 1958). He gave a IFFHS Trophy (the picture shows him with Just Fontaine and Petr Cech).
(Visited 649 times, 1 visits today)
74