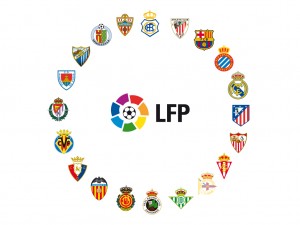 For the 7th time in raw, the Spanish LA LIGA is the Strongest League in the World for 2016. With Real Madrid, FC Barcelona, FC Sevilla and Atletico de Madrid, the Spanish clubs are on the Top in all continental competitions.
The Colombian PRIMERA A is the big surprise of the ranking with the second place (21th in 2012 and 9th in 2014). The results of Altlético Nacional (number 1 in the World) have a great contribution for this ranking, the Colombian League is so also the number 1 in South America before the Argentina PRIMERA DIVISION. The French LIGUE 1 has a big progression (7th in 2014 and 5th in 2015) with a third place before the German BUNDESLIGA.
The italian SERIE A has the worst ranking since 1991 (8th place) because of no qualification for the quarter finals of the European competitions. The English PREMIER LEAGUE wins a place (7th in 2015, 6th in 2016) and the turkish SÜPER LIG is again in the TOP 10 for the first time since 2009.
In CONCACAF zona, the Mexican LIGA MX is again number 1 before the Costa Rica's PRIMERA DIVISION and the USA MLS.
In Africa, the tunisian LIGUE 1 is the best league since 2013 before the Egyptian PREMIER LEAGUE and the Maroc BOTOLA.
In Asia, the Republic of Korea K LEAGUE CLASSIC is the best league since 2011 before the Saudi Arabia PRO LEAGUE (second in Asia for the 4th time in raw) and the China CSL, who has a great progression (70th in 2012 , 56th in 2014).
In Oceania, after the change of Australia to AFC, the SUPER LIGUE of Nouvelle Calédonie is for the first time Number 1 before the New Zealand PREMIERSHIP.
TOP 20 : UEFA (14), CONMEBOL (4), AFC (1), CONCACAF (1)
TOP 50 : UEFA (30), CONMEBOL (9), AFC (5), CAF (5), CONCACAF (1)
Top 80
(1st January 2016 – 31st December 2016)
| | | | |
| --- | --- | --- | --- |
| 1 | Spain | 1277 | UEFA |
| 2 | Colombia | 984 | CONMEBOL |
| 3 | France | 938 | UEFA |
| 4 | Germany | 910 | UEFA |
| 5 | Argentina | 901 | CONMEBOL |
| 6 | England | 898 | UEFA |
| 7 | Brazil | 897 | CONMEBOL |
| 8 | Italy | 857 | UEFA |
| 9 | Belgium | 732,5 | UEFA |
| 10 | Turkey | 705,5 | UEFA |
| 11 | Mexico | 682,5 | CONCACAF |
| 12 | Austria | 679,5 | UEFA |
| 13 | Netherlands | 672,5 | UEFA |
| 14 | Portugal | 654,5 | UEFA |
| 15 | Czech Republic | 633 | UEFA |
| 16 | Cyprus | 630 | UEFA |
| 17 | Paraguay | 621,5 | CONMEBOL |
| 18 | Republic of Korea | 618,5 | AFC |
| 19 | Greece | 593,5 | UEFA |
| 20 | Russia | 588,5 | UEFA |
| 21 | Croatia | 586,5 | UEFA |
| 22 | Ukraine | 569,5 | UEFA |
| 23 | Tunisia | 556,5 | CAF |
| 24 | Ecuador | 556 | CONMEBOL |
| 25 | Denmark | 544 | UEFA |
| 26 | Israel | 543,5 | UEFA |
| 27 | Scotland | 518,5 | UEFA |
| 28 | Saudi Arabia | 497,5 | AFC |
| | Switzerland | 497,5 | UEFA |
| 30 | Roumania | 496 | UEFA |
| 31 | Egypt | 481,5 | CAF |
| 32 | Poland | 480 | UEFA |
| 33 | Azerbaijan | 450,5 | UEFA |
| 34 | Serbia | 423 | UEFA |
| 35 | Venezuela | 414 | CONMEBOL |
| 36 | China | 411,5 | AFC |
| 37 | Norway | 408,5 | UEFA |
| 38 | Bolivia | 390 | CONMEBOL |
| | Republic of Ireland | 390 | UEFA |
| 40 | Belarus | 388,5 | UEFA |
| | Japan | 388,5 | AFC |
| | Maroc | 388,5 | CAF |
| 43 | Uruguay | 374 | CONMEBOL |
| 44 | Slovenia | 373,5 | UEFA |
| 45 | Sudan | 370 | CAF |
| 46 | U A E | 367,5 | AFC |
| 47 | Kazakhstan | 364,5 | UEFA |
| 48 | Chile | 362,5 | CONMEBOL |
| 49 | South Africa | 359 | CAF |
| 50 | Bulgaria | 357 | UEFA |
| 51 | Costa Rica | 355,5 | CONCACAF |
| 52 | Estonia | 355 | UEFA |
| 53 | Congo DR | 354,5 | CAF |
| 54 | Sweden | 351,5 | UEFA |
| 55 | Perù | 340 | CONMEBOL |
| 56 | Iran | 334 | AFC |
| 57 | Slovakia | 330,5 | UEFA |
| 58 | Finland | 325 | UEFA |
| 59 | U S A | 323 | CONCACAF |
| 60 | Qatar | 321,5 | AFC |
| 61 | Guatemala | 319 | CONCACAF |
| 62 | Northern Ireland | 313 | UEFA |
| 63 | Albania | 310,5 | UEFA |
| 64 | Macedonia | 310 | UEFA |
| 65 | Moldova | 307 | UEFA |
| 66 | Algeria | 305,5 | CAF |
| 67 | Georgia | 303,5 | UEFA |
| 68 | Hungary | 303 | UEFA |
| 69 | Nigeria | 302,5 | CAF |
| 70 | Angola | 293,5 | CAF |
| 71 | Honduras | 290 | CONCACAF |
| 72 | Nicaragua | 289 | CONCACAF |
| 73 | Australia | 288 | AFC |
| | Latvia | 288 | UEFA |
| 75 | Lithuania | 285 | UEFA |
| 76 | Cameroun | 270 | CAF |
| 77 | Thailand | 258 | AFC |
| 78 | Uzbekistan | 252,5 | AFC |
| 79 | Iceland | 225 | UEFA |
| 80 | Mali | 221,5 | CAF |
(Visited 24,752 times, 4 visits today)
110