Picture : the Referee Markus Merk, Petr Cech and the Club Coach José Mourinho received the IFFHS WORLD AWARDS 2005 in Sportstudio TV Germany.
IFFHS AWARDS – THE WORLD'S BEST GOALKEEPER 2005 : PETR CECH (CZECH REPUBLIC/FC CHELSEA)
PRESENTATION
Petr Cech, born 20 May 1982 in Plzen, is a Czech former Goalkeeper who is considered as one of the greatest of his generation and in the history of the Premier League where he played 15 years . He won 11 Golden Ball in Czech Republic (!),4 Premier League Golden Glove, 3 UEFA Goalkeeper Awards and the only World Trophy, the IFFHS Award THE WORLD'S BEST GOALKEEPER 2005 !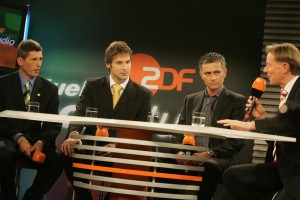 After his youth career with Viktoria Plzen (1989-1999) and international caps with Czech Republic U15, U16, U17, Petr Cech signed at Chmel Blsany in 1999. He played there two seasons and 27 matches, with another international caps with Czech Republic U18, U20 and U21 ! He was quickly considered as the best Goalkeeper in Czech Republic and joined in 2001, at 19 the champion and best club in the country, Sparta Prague. He became the first team regular goalkeeper and played 27 matches, registering a league record of not conceding a goal in 903 minutes.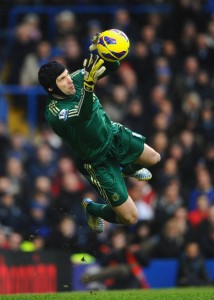 Petr Cech is also known for headgear. In october 2006, at a Premier League match against Reading, stephen Hunt's knee crunched into the head of Petr Cech. The impact was terrific and the consequences very important. The condition to continue to play football was to wear the head protector, because of the gravity of the injuring.
His talent let him the chance to join France and Stade de Rennes in 2002. He realised there two great seasons with 70 matches, so that the FC Chelsea with head coach José Mourinho decided to sign the Czech Goalkeeper in 2004. During his 11 years at Chelsea, Petr Cech registered 494 appearances (333 in Premier League) and won 4 Premier League titles 2004/05, 2005/06, 2009/10, 2014/15 ; 4 FA Cup 2006/07, 2008/09, 2009/10, 2011/12; 3 Football League Cup 2004/05, 2006/07, 2014/15; 2 FA Community Shield 2005, 2009 and particularly the UEFA Champions League title 2011/12 and the UEFA Europa League 2012/13 !
After a first individual Trophy in 2002 (UEFA U21 Golden Player), he was crowned Best Goalkeeper of French League (2004), of Premier League (2005, 2010, 2014, 2016), of UEFA Champions League (2005, 2007, 2008), 11 times Golden Ball in Czech Republic (2005 to 2017) and as THE WORLD'S BEST GOALKEEPER 2005 by IFFHS. He was ranked number 3 in the World behind Iker Casillas and Gianluigi Buffon in the IFFHS Ranking of the first decade (2001-2010) ! He holds also the all-time club record of clean sheets (228) with FC Chelsea.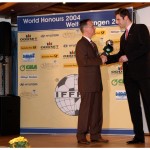 IFFHS Silver Trophy 2004
IFFHS Silver Trophy 2006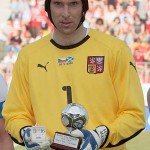 IFFHS Bronze Trophy 2007

He signed a last contract with FC Arsenal in 2015 and played there until 2019 with 110 PremierLeague matches. he won another FA Cup 2016/17, two FA Community Shield 2015 and 2017, being runner-up at the UEFA Europa League 2018/19. He decided to end his career and joined again his heart club FC Chelsea where he became the Technical and Performances Advisor of the Club !
Petr Cech ist the most capped Czech international Player with 124 caps between 2002 and 2016. Since 1997 he was the international Goalkeeper of all teams of Czech Republic U15, U16, U17, U18, U19, U20, U21 and senior ! He represented his country at the FIFA World Cup 2006 and at the UEFA Euro 2004, 2008, 2012 and 2016. He was also captain of the Czech team, holding the records of the most Czech Republic Footballer of the year titles and of the Czech Golden Ball wins !
He holds a lot of records in the Premier League in England : the most clean sheets in a season (24), the most clean sheets in Premier League history (202), he is the only Goalkeeper to have won the Premier League Golden Glove with two separate clubs (Chelsea and Arsenal) .