Picture : Adriano received the IFFHS Trophy in Switzerland with his national team.
IFFHS AWARDS – THE WORLD'S BEST TOP GOAL SCORER 2005 : ADRIANO (BRAZIL/FC INTER MILAN)
PRESENTATION
Adriano Leite Ribeiro, born 17 February 1982 in Rio de Janeiro, known in the World of football as "Adriano", was one of the best strikers of all continents during the mid 2000s. In 2005, he won 7 Trophies in Italy with his club and with Brazil, becoming THE WORLD'S BEST TOP GOAL SCORER by IFFHS.
Adriano started his youth career in Flamengo (1997) where he earned a FIFA World Champion title with the Brazil U17 in 1999 and the promotion to the first team on 2 February 2000. He played there 24 matches and scored 10 goals in one season, winning the Copa dos Campeoes and also the South American Youth Championship 2001 with Brazil Youth. In 2001, He moved to Italy and signed at FC Inter Milan. 8 matches and 1 goal later, he was loaned to Fiorentina (2002). 6 goals in 15 matches were enough to convince FC Parma to sign a two years deal ((2002-2004). He scored 23 goals in 37 matches and impressed again Inter Milan's staff.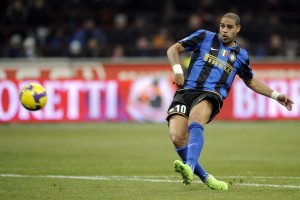 Adriano with Inter Milan
In January 2004, he returned to San Siro and Inter. He made there the best prolific seasons in 2004 in which he won the Copa America with Brazil, The Golden Ball, the Golden Shoe, the Award of The Internazionale Player of the year, finished in the Top 6 of the BALLON D'OR and , especially in 2005, in which he won the Italian Serie A with Inter, the Coppa Italia, the Supercoppa Italiana, the FIFA Confederations Cup with Brazil, The FIFA Golden Ball, the FIFA Golden Shoe and IFFHS Award THE WORLD'S BEST TOP GOAL SCORER.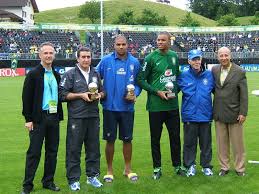 Adriano and the Brazilian national staff with Pareira and Zagallo.
From July 2004 to June 2005, Adriano was in international top form, scoring 42 goals in all competitions. After the death of his father, he suffered and his performances declined with Inter. He won 3 other Serie A titles (2006/07, 2007/08, 2008/09), one other Coppa Italia 2005/06 and two other Supercoppa Italiana 2006 and 2008. He played 115 matches with inter and scored 47 goals between 2004 and 2009. He was loaned to Sao Paulo in 2008 (11 goals in 21 matches) and transferred to Flamengo in 2009/10. He won there a new Campeonato Brasileiro Serie A title and with 19 goals in 32 matches, became the Brazilian Top Goal Scorer, won the Bola de Our and Bola de Prata in 2009 !
After a quick stay in Roma (2010/11), he returned to Brazil and signed at Corinthians (2011/12), where he won a new Campeonato Brasileiro Serie A title without playing many matches (4 matches, 1 goal). After quick stays at Flamengo and Atlético Paranaense, he finished his career in Miami in 2016.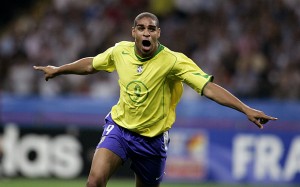 Adriano with the Brazil shirt
Making his Brazil debut at 18, Adriano was a long time considered as the Ronaldo successor. He led Brazil to the Copa America 2004, receiving the Golden Bal and the Golden Shoe. He won also the FIFA Confederations Cup 2005 with also the Golden Shoe. He earned so 48 international caps with Brazil between 2000 and 2010, scoring 27 goals. He was part of the famous magic quartet of Brazil (with Ronaldo, Ronaldinho and Kaka) at the World Cup 2006 but without success.