"Araujo" received his IFFHS Trophy at a Gala in Germany.
IFFHS AWARDS – THE WORLD'S BEST TOP DIVISION GOAL SCORER 2005 : CLEMERSON DE ARAUJO SOARES (Brazil/Gamba Osaka)
PRESENTATION
Clemerson de Araujo Soares, best known as "Araujo" , born 8 August 1977 in Caruaru, is a Brazilian striker, who was capped three times with the Brazilian National Team U23 and realised a great career in Asia, winning the IFFHS Award THE WORLD'S BEST TOP DIVISION GOAL SCORER 2005 , his greatest international Trophy !
After his youth team Porto-PE in Brazil, Araujo began his professional career with Goias. He played there from 1997 to 2003, 170 matches and 50 goals, winning the Goias State League 1998, 1999, 2000, 2002, 2003 ; The Brazilian Second League 1999 and the Brazilian Center-West Cup 2000, 2001,2002.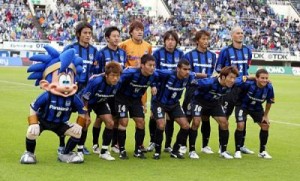 The n°9 of Gamba Osaka
His Goal Scorer qualities brought him to Japan at Shimizu S-Pulse where he played 36 matches and scored 10 goals. He joined one year later Gamba Osaka and made a fantastic season 2005. He won the J1 League with his club, became J League MVP, J League Top Scorer (33 goals in 33 matches), Japanese Footballer of the Year (41 goals in total in 46 matches) and was crowned as THE WORLD'S BEST TOP GOAL SCORER 2005 by IFFHS.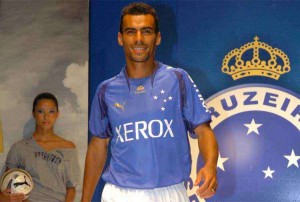 Return to Brazil and Cruzeiro
It was his last season in Japan, he went back to Brazil and signed for Cruzeiro. He won there the Minas Gerais State League 2006 but scored only 5 goals in 14 matches. So he left again his country for Qatar where he joined Al-Gharafa . In three years (2007-2010), he won 3 Qatar Stars League 2007/08, 2008/09, 2009/10 ; one Qatari Stars Cup 2009/10, one Emir of Qatar Cup 2009 and one Qatar Crown Prince Cup 2009/10. He played there 84 league matches with 68 goals and in total he scored 113 goals in 133 matches, becoming the Qatari League Top Scorer 2007/08 and receiving the Super award Best Player in Qatar Stars League 2009 !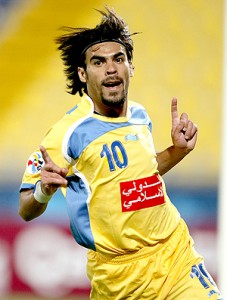 Best Player in Qatar
He left Qatar in 2010 at 33 years to return in his country to Fluminense and Nautica (2011/12), Atlético Mineiro in 2013, Goias in 2013/14 ( 35 matches, 9 goals), Central in 2016 and Sete de Stembro in 2017/18 without any great success.