Picture : Samuel Eto'o with IFFHS President HE Saleh Salem Bahwini and another African Legend Player Roger Milla.
SAMUEL ETO'O : 426 GOALS IN 880 MATCHES !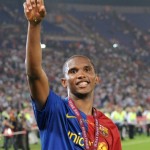 Eto'o with FC Barcelona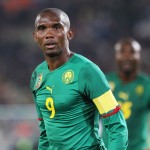 Eto'o with Cameroon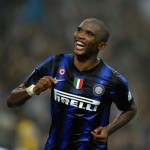 Eto'o with Inter Milan

The Cameroon Star Samuel Eto'o (38 years old) announced that he will retire from football last week. He entered in the circle of the World Legend Players !
Eto'o has played in 7 different countries in his career (Cameroon, Spain, Italy, England, Russia, Turkey, Qatar) and was one of the best Goal Scorers in the History . He scored in total 426 goals in 880 matches during 22 years, 293 goals in the different leagues, 111 goals in continental competitions and 56 goals with Cameroon national team.
He began in 1997 with Real Madrid CF/ loan to CD Leganes and finished in Qatar with Qatar SC in 2019. He won 2 UEFA Champions Leagues, 3 Spanish Liga titles , 2 Copa del Rey with FC Barcelona ; 1 UEFA Champions League, 1 Italian Serie A title , 1 Copa Italia and 1 Club World Cup with Inter Milan and with Cameroon, he was successful at 2 African Nations Cup and won the Gold Medal at the Olympic games 2000 !
He was crowned 4 times the Best African Player, was third at the FIFA Best Player 2005 ranking and Samuel Eto'o is the Best Goal Scorer in the History of Real Majorque (70 goals), Cameroon (56) and at the competition of the African Nations Cup (18) !
ADA HEGERBERG : 202 GOALS IN 165 MATCHES !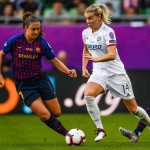 Ada the Goal Scorer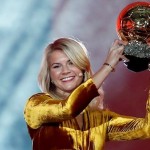 Ada and the Ballon d'Or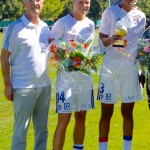 Ada and IFFHS 2016 Trophy with Lyon

The Norwegian Player Ada Hegerberg , who won the first BALLON D'OR in the Women Football History (2018), has scored last week her 200th goal in only 165 matches for French UEFA Champions League Winner Olympique Lyon!
She began her professional career in 2010 (15 years old) in Norway, stayed one year in Potsdam Germany before joining the Women World's Best Club Olympique Lyon in July 2014. Within these 5 years, Ada won 5 French Ligue 1 titles, 4 French Cups and 4 UEFA Champions League titles ! She scored last saturday three goals against Stade de Reims , so she added 202 goals in 165 matches with Olympique Lyon , 135 goals in 107 League matches, 27 goals in 20 French Cup matches and 40 goals in 39 UEFA Champions League matches !
At only 24, Ada Hegerberg registered 264 goals in 255 official matches in the highest level ! She scored also 38 goals in 66 matches with Norway's National Team .The most efficient Top Goal Scorer in the World has won the Ballon d'Or 2018, the UEFA Player Award 2016 and was crowned many years Top Goal Scorer in French Ligue 1 and UEFA Champions League.