Picture : Markus Merk and his Award of the first Decade with Dr Alfredo Pöge.
IFFHS AWARDS – THE WORLD'S BEST REFEREE 2004, 2005, 2008 : Markus MERK (Germany)
PRESENTATION
Markus Merk, born 15 March 1962 in Kaiserslautern, is a former German Top referee, who was crowned three times as THE WORLD'S BEST REFEREE by IFFHS and six times as the German Referee of the year.
IFFHS Awards Celebration 2004 with Petr Cech and José Mourinho in TV !
In 1988, he was appointed the youngest Bundesliga Referee ever, aged 25, and began a great career the 20 August the same year with 339 Bundesliga matches between 1988 and 2008 in 20 years. He became four years later UEFA and FIFA Referee ! He directed 50 international FIFA matches, at the Olympics 1992, at the World Cup 1993, the 2002 FIFA World Cup, the FIFA Confederations Cup 2003 and three matches at the World Cup 2006 in Germany, his country.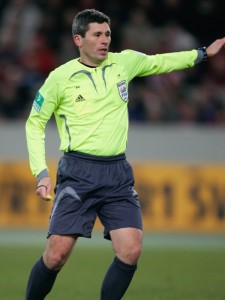 In Europe, he directed 78 UEFA European Cup matches between 1992 and 2008, refereeing the 1997 UEFA Cup Winner's Cup Final between FC Barcelona and Paris SG, the 2003 UEFA Champions League final AC Milan – FC Juventus and the final of UEFA Euro 2004 between Portugal and Greece. In that tournament he became the first German Referee since Rudi Glöckner in 1970, to helm an international final.
IFFHS Award 2005
He made a top-level career as referee and won the three IFFHS Awards THE WORLD'S BEST REFEREE 2004, 2005 and 2008 , also was crowned as THE WORLD'S BEST REFEREE OF THE FIRST DECADE OF THE 21st CENTURY (2001-2010) because of his regularity and cleverness. He ended his career on the last day , the 17 May 2008, of the Bundesliga 2007/2008 by refereeing FC Bayern München and Hertha BSC Berlin. He made a great charity work in India and is currently consultant at TV.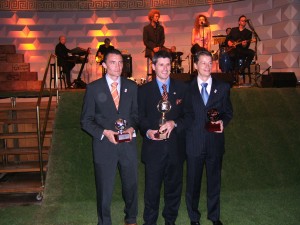 IFFHS Award 2008