Picture : Otto Rehhagel (left) received the IFFHS Trophy 2004 at a Gala in Germany
IFFHS AWARDS – THE WORLD'S BEST NATIONAL COACH 2004 : Otto REHHAGEL (Germany/National Team Greece)
PRESENTATION
Otto Rehhagel, born 9 August 1938 in Essen, is a great German football coach, after being a football player earning two caps with the Amateur Team of West Germany.
He began his youth career in 1948 in TUS Helene Altenessen, where he stayed until 1960, earning as defender his two caps with the Amateur National team of West Germany. He joined then RW Essen in 1960, where he played 90 matches (3 goals) until 1963. Hertha BSC Berlin was his next step (53 matches, 3 goals) between 1963 and 1965, he moved in 1965 to 1FC Kaiserslautern where he played until 1972 , 148 matches and scored 17 goals.
As player he was known for his hardness and for his cleverness, so he became naturally coach and manager. He began to manage FV Rockenhausen and 1FC Saarbrücken in 1972-73, before taking in charge Kickers Offenbach in 1974, Borussia Dortmund (1976-78), Arminia Bielefeld (1978-79) and Fortuna Düsseldorf (1979-80), where he won his first trophy as manager, the German Cup 1980.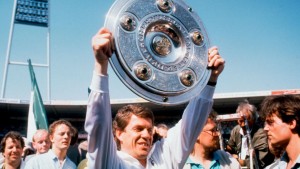 Rehhagel and the Bundesliga Trophy with Werder Bremen
Otto Rehhagel moved then to SV Werder Bremen and stayed there 14 years from 1981 to 1995 ! During these years, the golden years of the club, he transformed the team to the greatest rival of Bayern München. After many second places and Cup final losses in the 80′, he won two Bundesliga titles (1987/88, 1992/93), two German Cups (1990/91, 1993/94), three DFL Supercups (1988, 1993, 1994) and the UEFA Cup Winner's Cup 1991/92, the consecration in the continent. His stint with Werder Bremen (14 years Bundesliga) is the second long consecutive occupation as a manager ever in the Bundesliga, Volker Finke (SC Freiburg) with 16 years holds the record.
He left Bremen to join the hated rival FC Bayern München in 1995, but had a disappointing season. So he chose to go to 1FC Kaiserslautern, where he stayed 4 years from 1996 to 2000. He realised a great exploit, winning first the Second Bundesliga title 1996/97 to reach the 1 Bundesliga and to win immediately the 1 Bundesliga title 1997/98 ! In 2001, he made a new experience and coached the Greece National team until 2010. It was the most successful era of Greece in the football world . During this period the Greek team won the UEFA Euro 2004 (it was the big surprise) and qualified for the 2010 World Cup, their second World Cup final participation after 1994.He won in 2004 the only World consecration, the IFFHS Award of THE WORLD'S BEST NATIONAL COACH. In 2012 he helped Hertha BSC Berlin one year before retiring from football.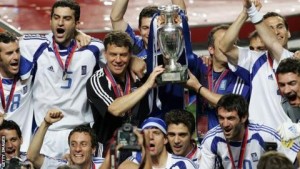 Rehhagel and the UEFA Euro Trophy with Greece
Otto Rehhagel is one of only two people in Germany, with Jupp Heynckes (also winner of the IFFHS Award 2013 ), who has participated as player and manager combined in over 1000 Bundesliga matches.