DZSENIFER MAROZSAN THE BEST !
Germans and Olympique Lyonnais playmaker Dzsenifer Marozsan has proved since the first ranking in this category in 2012 that she is really the greatest Playmaker in the World !
For the second time after 2016, she was voted as The World's Best Woman Playmaker in 2018 after being second in 2015 and 2017. It was a great match between the 26 years old German Playmaker and the first winner of the Award in 2012, the 32 years old Brazilian star Marta.
The IFFHS voters from 90 countries all over the World voted 176 points for Marozsan, relegating Marta to second place with 170 points. A little marge for Marozsan who won the UEFA Champions League and the French Championship, she stood again out with her technical skills and excellent vision for her teammates.
Marta made performances with her team of Orlando Pride and the Brazilian national team, but not enough to beat Dzsenifer Marozsan, the reference in this category !
Dzsenifer Marozsan already winner in 2016 !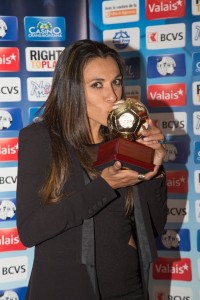 Marta winner in 2012 !
RANKING IFFHS : THE WORLD'S BEST WOMAN PLAYMAKER 2018
| | | | | |
| --- | --- | --- | --- | --- |
| Ranking | Name | Country | Club | Points |
| | | | | |
| 1 | Dzsenifer MAROZSAN | Germany | Olympique Lyonnais | 176 |
| 2 | MARTA | Brazil | Orlando Pride | 170 |
| 3 | Pernille HARDER | Denmark | VFL Wolfsburg | 72 |
| 4 | Amandine HENRY | France | Olympique Lyonnais | 56 |
| 5 | Lieke MARTENS | Netherlands | FC Barcelona | 41 |
| 6 | Yuri NAGASATO | Japan | Chicago RS/Brisbane Roar | 19 |
| 7 | Sara Björk GUNNARSDOTTIR | Iceland | VFL Wolfsburg | 13 |
| | Megan RAPINOE | USA | Seattle Reign FC | 13 |
| 9 | Jennifer HERMOSO | Spain | Paris SG/Atlético de Madrid | 11 |
| 10 | Lindsey HORAN | USA | Portland Thorns FC | 9 |
| 11 | Christine SINCLAIR | Canada | Portland Thorns FC | 6 |
| 12 | Tobin HEATH | USA | Portland Thorns FC | 4 |
| 13 | Gaetane THINEY | France | Paris FC | 3 |
| 14 | Kim LITTLE | Scotland | Arsenal WFC | 1 |
(Visited 1,679 times, 1 visits today)
4