THREE IN A RAW FOR SARAH BOUHADDI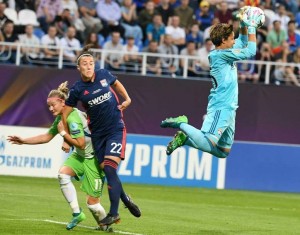 French and Olympique Lyonnais goalkeeper Sarah Bouhaddi has retained her title as The Best Woman's Goalkeeper in the World with a runaway win in the IFFHS 2018 Awards.
For the third year in raw, Bouhaddi has capped a great season to clearly win the Award with 185 points from football experts in 90 countries all over the world, with Germans and VFL Wolfsburg keeper Almuth Schult second (she won the Award 2014 with Hope Solo) on 121 points followed by third placed USA team and Orlando Pride keeper Ashlyn Harris on 48 points. Hope Solo, the American Legend Goalkeeper, has won this Award 4 times, one more than the French Goalkeeper.
Sarah Bouhaddi won with her club Olympique Lyonnais in 2018 her 9th national championship as well as her 5th Women's UEFA Champions League !
She was injured in the Champions League final but continued to play more than 30 minutes with a broken left hand to finally win the Cup !
The young Goalkeeper of Panama, Yenith Bailey (17 years old) appears in the ranking for the first time, she made a fantastic performance at the CONCACAF qualifications.
RANKING IFFHS : THE WORLD'S BEST WOMAN GOALKEEPER 2018
| | | | | |
| --- | --- | --- | --- | --- |
| Ranking | Name | Country | Club | Points |
| | | | | |
| 1 | Sarah BOUHADDI | France | Olympique Lyonnais | 185 |
| 2 | Almuth SCHULT | Germany | VFL Wolfsburg | 121 |
| 3 | Ashlyn HARRIS | USA | Orlando Pride | 48 |
| 4 | Lydia WILLIAMS | Australia | Seattle Reign FC | 38 |
| | Hedvig LINDAHL | Sweden | Chelsea FC | 38 |
| 6 | Christiane ENDLER | Chile | Paris SG | 34 |
| 7 | Sandra PANOS | Spain | FC Barcelona | 29 |
| 8 | Sari VAN VEENENDAAL | Netherlands | Arsenal WFC | 21 |
| 9 | Stephanie LABBE | Canada | Calgary FWFC/Linköpings FC | 18 |
| 10 | Katarzyna KIEDRZYNEK | Poland | Paris SG | 13 |
| 11 | Manuela ZINSBERGER | Austria | FC Bayern München | 11 |
| 12 | Alyssa NAEHER | USA | Chicago RS | 7 |
| 13 | Michelle BETOS | USA | Seattle Reign FC | 6 |
| 14 | Adrianna FRANCH | USA | Portland Thorns FC | 5 |
| 15 | Sabrina D'ANGELO | Canada | North Carolina Courage FC | 4 |
| 16 | Ingrid HJELMSETH | Norway | Stabaek Fotball | 3 |
| 17 | Yenith BAILEY | Panama | | 1 |
| | Karen BARDSLEY | England | Manchester City FC | 1 |
| | Loes GEURTS | Netherlands | Kopparbergs/Göteborg FC | 1 |
| | Laura GIULIANI | Italy | Juventus FC | 1 |
(Visited 4,940 times, 1 visits today)
8